Evening Primrose
Herbal Benefits
Easily grown in most parts of the world, Evening Primrose is a hardy plant that boasts study-based benefits along with some non-conclusive testimonial-based benefits. The oil, which is the medicinal part, is derived from the seeds and then used in medicine, soap, and cosmetics. Evening Primrose also contains essential fatty acids which are necessary to the human body for healthy body composition, mental and physical performance, and disease prevention.
Uses of this herb include:
Breast pain management
Arthritis
Nerve damage
Diabetes related pain
Osteoporosis
Testimonial-backed benefits include treatment for:
Insomnia
Anxiety
Menopausal symptoms
Psoriasis
Sjogren syndrome
Like Evening Primrose, our RelaxGrip® nozzles and wands help alleviate strain from your hands and wrists. This will provide you a natural grip without causing fatigue. Nine of the new RelaxGrip nozzles and wands are certified for Ease of Use™ by the Arthritis Foundation.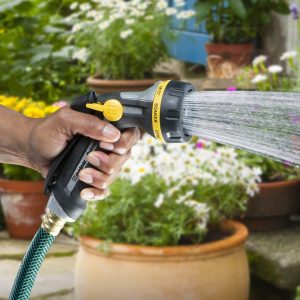 Growing
Most effective growing in hardiness zones 3 to 9. Soil composition should be light and loamy or sandy soil with full sun exposure. Space seeds 8-12 inches apart as they can become invasive in growing over one another. Once flowered, pruning can be beneficial to encourage stronger blooms.
Water as needed.
FDA Disclaimer: These statements have not been evaluated by the Food and Drug Administration. They are not intended to diagnose, treat, cure, or prevent any disease.
Sources
"Evening Primrose" WebMD, https://www.webmd.com/vitamins/ai/ingredientmono-1006/evening-primrose-oil. Accessed 21 July 2021.
Deering, Shelby. "9 Most Powerful Medicinal Plants and the Science Behind Them" Healthline, https://www.healthline.com/health/most-powerful-medicinal-plants. Accessed 21 July 2021.
Will, Melissa J.. "How to Grow Evening Primrose (Oenothera) and What to Watch Out For" Empress of Dirt, 30 August 2017, https://empressofdirt.net/evening-primrose-oenothera/. Accessed 21 July 2021.